GENEVER STYLE GIN
It's not whiskey. It's not gin. It's genever! Distilled from a base of malted rye, malted barley, and cane spirit then vapor infused with juniper, angelica root, orris root, cardamom, eldrer flower, ginger root, persimmon, chicory root and orange peel.
A nice hit of juniper on the front that transition into subtle earthy notes with a burst of citrus. Finishes with uncompromising notes of malt, rye and chicory.

ABSINTHE NOUVELLE
THIS IS MARYLAND'S FIRST ABSINTHE! Distilled with the absinthe "holy trinity" of wormwood, anise, and fennel. All that emerald and natural green comes from small wormwood, hyssop, and lemon balm.
A punch of rich licorice, complex herbal notes, and floral fairy dust. Trying to set our absinthe on fire? Shame on you! Read how to consume here.

CARAWAY RYE
A mash bill of malted rye, malted barley, and you won't believe it… caraway seed!
A mouthful of aquavit-like notes, malty tones, pops of chocolate, anise, and stone fruit

SMOKED CORN WHISKEY
SMOKED CORN, MALTED BARLEY. 'Nuff said.
Mezcal and scotch like notes, butter, sweet corn, and then a packed punch of smoke, campfire and wood on the finish

ATTABRANDY
Distilled from Attaboy Beer Blood Orange Cider then slowly infused with lavender buds and blood orange peels, then ever-so-slightly sweetened with local honey.
Our Attabrandy offers undertones of floral lavender underscored by the bold bite of blood oranges.
SOLD OUT!

SMOKED BOURBON
Corn grown and smoked in-house by our farmer 30 miles from Frederick in Charles Town, WV with barley grown and malted on the same farm. Aged in un-used American white oak.
Scotch like notes, wood, caramel, and then a hit of smoke, campfire and oak on the finish.
SOLD OUT! NEXT RELEASE: 2020

APPLEJACK
Apple brandy distilled from the most lip smacking, local cider in Frederick! Aged in bourbon barrels, and finished in deliciously sweet honey mead barrels.
A smack of dry champagne, bourbon-like innuendos and whispers of tart apple.
SOLD OUT! NEXT RELEASE: FALL 2020
MARYLAND ABSINTHE SERIES
For the love of everything Maryland, we released not one but three limited absinthe bottles. Only available in a gift pack of three.
Absinthe Blanche: anise, fennel, wormwood, mace
Absinthe Rouge: anise, fennel, wormwood, passion flower, bay leaf, cardamom, clove, ginger, nutmeg, rose flowers, rose hips, pomegranate, beet powder
Absinthe Soleil: anise, fennel, wormwood, turmeric, thyme, coriander, black mustard, marigold, lime peel
NOW AVAILABLE AS A 4-PACK WITH OUR ABSINTHE NOUVELLE
STOUTED RYE
Our 70% rye, 30% barley mash bill, aged in brand new No. 4 charred American White Oak and then finished in Flying Dog Gonzo Imperial Porter Barrels.
Jammy notes of plum and chocolatey malt. Brief boom of pepper in the center. Finished dry and malty.
SOLD OUT! COMING BACK 2020!

HONEYJACK
Yep, we distilled mead from Orchid Cellar Meadery, and then barrel aged it. And nope you can't find this anywhere else!
A kick of honey to your taste buds then vanilla, oak, caramel, and honeycomb perfume on the finish.
SOLD OUT! COMING BACK 2020!

BRINTON'S BRANDY
Tenth Ward's original apple brandy dunked in local tart cherries.
Cherry pie to the face, a teensy bit of sweetness and a little apple pucker to finish. A traditional American recipe dating back to the Civil War era! Released only once a year.
SOLD OUT! NEXT RELEASE: FEB 2021!
| | |
| --- | --- |
| | This icon denotes which products are part of our Conspiritor Series. We are passionate about collaborating with our local industry counterparts & other partners. |
SPRINGTIME LIQUEUR
Tenth Ward's original apple brandy forged with chamomile, sweet woodruff, almond, apple peel, vanilla and cardamom
Imagine honey, budding fruit and fresh spring flowers are having a party in your mouth
NEXT RELEASE: March 7, 2020
SUMMERTIME LIQUEUR
Tenth Ward's original apple brandy jam packed with hibiscus tea, white tea, raspberries, lemon balm, lemon peel, roasted rhubarb and angelica root
Berry, floral and lemon notes dancing on your tongue then pucker up for hints of tannins, refreshing tartness, tea and herbs
NEXT RELEASE: SUMMER 2020
AUTUMN LIQUEUR
Tenth Ward's original apple brandy melded with ginger, plum, black tea, turmeric, allspice, cinchona bark, sage, fennel, saffron, and honey
A smack of dry champagne, bourbon-like innuendos and whispers of tart apple
NEXT RELEASE: FALL 2020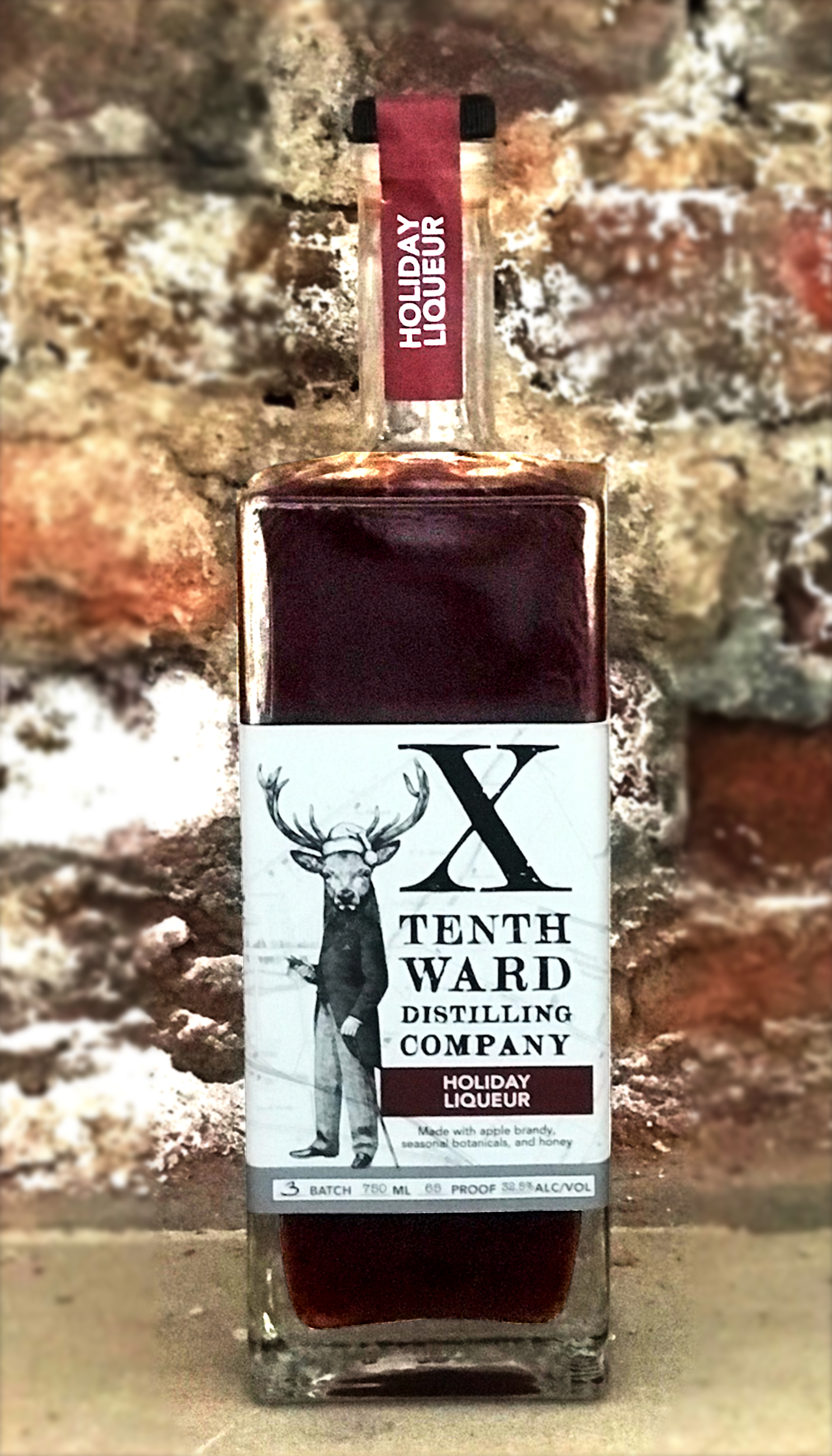 HOLIDAY LIQUEUR
Tenth Ward's original apple brandy infused with everything Christmas: sandalwood, mace, dried cherries, rooibos tea, white peppercorn, vanilla, hazelnut, and allspice.
Nips of warm fireplace and… yeah it's basically Christmas in a bottle.
AVAILABLE NOW FOR A LIMITED TIME!
OLDE WARD WHISKEY
Distilled from an Olde Mother Brewing Co. Pale Ale. Aged in used Honeyjack barrels. Spiced with fresh orange peel, mission figs, chamomile and cloves.
Heavy orange citrus on the nose followed by yummy notes of malt, oak and candied figs. And on the taste it's pretty much an Old Fashioned in a bottle! With bold citrus notes, hints of chocolate, vanilla oak and cloves.
SOLD OUT!
ATTAMARO BOY
Distilled Grapefruit IPA, finished in a used rum barrel, and infused with honeysuckle, dried permissions, angelica root, and oleo saccharum of grapefruit.
IPA style notes, hints of hops, citrus, flowers and bitterness
SOLD OUT!

LINDSAY STUNKLE RYE WHISKEY
80% malted rye
20% malted barley
120 proof
Meant for home aging
SOLD OUT!
REVENANT
1.5 oz Tenth Ward Genever Style Gin
1 oz orange liqueur
1 oz Cocchi Americano
1 oz clarified lemon juice
.25 oz Tenth Ward Absinthe Nouvelle
Lemon peel twist for garnish
Add all ingredients into a cocktail shaker filled with ice. Shake well, and then double-strain into a chilled coupe and garnish.
JACK ROSE
2 oz Applejack
1 oz lemon or lime juice
.5 oz pomegranate juice
Shake with ice, strain.
* Add champagne for a "Jane Rose"
BLOODY MANHATTAN
1.5 oz white caraway rye
1/2 oz Solernos blood orange liqueur
1/2 oz oz sweet vermouth
Splash orange bitters

shake with ice, strain into martini glass, garnish with cherry
SUMMERTIME ROYALE
1 oz Summertime Liqueur
Champagne
Pour liqueur in champagne glass, top with champagne
ABSINTHE FRAPPE
1 oz Absinthe Nouvelle
6-8 mint leaves
simple syrup
soda water
lemon wedge
Muddle mint, lemon wedge and simple syrup in shaker, add ice and absinthe, shake. Strain over a glass with crushed ice, top with soda water, garnish with lemon or lime.
SMOKEY JALAPENO MARGARITA
1.5 oz corn whiskey
1 muddled jalapeño slice
1 oz orange liqueur
1 oz lime juice
0.5 oz simple syrup
Serve over ice. Garnish with salt rim, lime and jalapeño.
RYE MULE
1.5 oz Caraway Rye Whiskey
Ginger beer
Orange bitters
Pour whiskey and dash of orange bitters over ice,top with ginger beer, garnish with lime
SMOKED WHISKEY SOUR
1.5 oz Smoked Corn Whiskey
1 oz lemon juice
5 oz simple syrup
1 egg white
2 dashes bitters
Dry shake the egg white. Add ice, whiskey, simple syrup and lemon juice and shake. Strain into a glass and top with bitters
Give the gift of spirits! Click below to purchase Tenth Ward Distilling Company gift cards in any amount you like.
Abbey Burger Bistro Fells Point
811 S Broadway, Baltimore MD
13.5% Wine Bar 
1117 West 36th Street, Baltimore, MD
Bookmaker's Cocktail Club 
31 E Cross Street, Baltimore, MD
Chez Hugo 
206 E Redwood Street, Baltimore, MD
Coelum 
800 S Kenwood Avenue, Baltimore, MD
Cookhouse 
1501 Bolton Street, Baltimore, MD
Dutch Courage 
2229 N Charles Street, Baltimore, MD
Fat Tiger
1640 Aliceanna Street, Baltimore, MD
Good Works Spirit House 
800 S Kenwood Avenue, Baltimore, MD
Gypsy Truckstaurant
3515 Clipper Mill Rd, Baltimore, MD
Hive Baltimore Bistro
9629 Belair Rd, Perry Hall, MD
Ida B's Table
235 Holliday Street, Baltimore, MD
Lighthouse Tavern
1226 S Clinton St, Baltimore, MD
Mick O'Shea's Irish Tavern
328 N Charles St, Baltimore, MD
Mayuree Thai Tavern 
2318 Fleet Street, Baltimore, MD
North Avenue Market
30 W North Avenue, Baltimore, MD
Noona's
1203 W Mt Royal Avenue, Baltimore, MD
No Land Beyond 
2125 Maryland Avenue, Baltimore, MD
Old Line Cocktail and Wine Bar
1065 S Charles Street, Baltimore
Owl Bar 
1 E Chase Street, Baltimore, MD
One Eyed Mike's
708 Bond Street, Baltimore, MD
Papi's Taco Hampden
3820 Falls Road, Baltimore, MD
Pekopeko Ramen 
7 East 33rd Street, Baltimore, MD
Pig & Rooster Smokehouse
3242 Foster Ave, Baltimore, MD
Shotti's Point
701 E Fort Ave, Baltimore, MD
Smaltimore
2522 Fait Avenue, Baltimore, MD
Southern Provisions
3000 O'Donnell Street, Baltimore, MD
R Bar 
301 W 29th Street, Baltimore, MD
Red Emma's
1225 Cathedral Street, Baltimore, MD
The Ready Room Cocktail Bar
200 S Janney Street, Baltimore, MD
The Outpost American Tavern
1032 Riverside Ave, Baltimore, MD
Tin Roof
34 Market Place, Baltimore, MD
The Back Yard
131 S. Schroeder Street, Baltimore, MD
The Black Olive 
814 South Bond Street, Baltimore, MD
True Chesapeake Oyster Co.
3300 Clipper Mill Rd, Baltimore, MD
The Tilted Row
305 McMechen Street, Baltimore, MD
Wicked Sisters
3845 Falls Road, Baltimore, MD
Woodberry Kitchen
2010 Clipper Park Rd, Baltimore, MD
WC Harlan
400 W 23rd Street, Baltimore MD
Bushwaller's
209 N Market St, Frederick, MD
Cafe Nola
4 E Patrick St, Frederick, MD 21701
Firestone's Culinary Tavern
105 N Market St, Frederick, MD 21701
Firestone's Raw Bar
109 N Market St, Frederick, MD
Hootch and Banter
49 S Market St, Frederick, MD 21701
Holly Hills Country Club
5502 Mussetter Rd Ijamsville, MD 21754
JoJo's Restaurant & Tap House
16-18, E Patrick St, Frederick, MD 21701
Lazy Fish
10 E Patrick St, Frederick MD 21701
Maxwell's Kitchen
57 E Patrick Street Frederick, MD
PB Dye Golf Course 
9526 Dr Perry Road, Ijamsville, MD
Ragin' Reef
506 E Church St, Frederick, MD 21701
Roasthouse Pub
5700 Urbana Pike, Frederick, MD 21704
Shuckin' Shack
41 S. Market Street, Frederick, MD 21701
Surf House Island Cantina
8925 Fingerboard Road, Frederick, MD 21704
The Tasting Room
101 N Market St, Frederick, MD 21701
The Main Cup
14 W Main Street, Middletown, MD 21769
Taco Daddy Cantina 
137 North Market Street Frederick, MD
Volt
228 North Market Street, Frederick, MD
White Rabbit Gastropub
18 Market Space, Frederick, MD 21701
Whiskey Creek Golf Course
4804 Whiskey Court Ijamsville, MD
The Wine Kitchen
50 Carroll Creek Way #160, Frederick, MD 21701
Owens Ordinary
11820 Trade Street, North Bethesda, MD 20852
The Daily Dish
8301 Grubb Road, Silver Spring, MD
The Dish & Dram
10301 Kensington Parkway, Kensington, MD
McGinty's Public House 
911 Ellsworth Drive, Silver Spring, MD
Repubic
6939 Laurel Avenue, Takoma Park, MD
Round House Theatre
4545 East-West Highway, Bethesda, MD
Silver Branch Brewing Co. 
8401 Colesville Road, Silver Spring, MD
Takoma Beverage Company
6917 Laurel Avenue, Takoma Park, MD
A Rake's Progress
1770 Euclid St NW, Washington, DC
Bar Bullfrog
1341 H Street NE, Washington, DC
 Belga Cafe
514 8th St SE Washington, DC
Brooklands Finest
3126 12th Street NE Washington, DC
Crown and the Crow
1317 14th Street NW, Washington, DC
Chloe
1331 4th Street SE, Washington, DC
Emilie's DC 
1101 Pennsylvania Avenue, SE Washington, DC
Freestate Atlantic Bar 
501B G Street NW, Washington, DC
Jug and Table 
2446 18th Street NW, Washington, DC
Laos in Town 
250 K Street NE, Washington DC
Little Coco's 
3907 14th Street NW, Washington DC
Primrose 
3000 12th Street NE, Washington, DC
Provision No.14 
2100 14th Street NW, Washington, DC
Roofer's Union
2446 18th Street NW, Washington, DC
Sauf Haus DC
1216 18th Street NW, Washington, DC
Tabard Inn
1739 N Street, NW, Washington, DC
Walter's Sports Bar
1221 Vann Street SE Washington, DC
Is your restaurant or store interested in carrying Tenth Ward spirits?
Contact Tenth Ward's Sales Associate Christene Thomas for more information: cthomas@tenthwarddistilling.com