ABSINTHE NOUVELLE
Maryland's first Absinthe! Distilled from cane spirit with the absinthe "holy trinity"of grand wormwood, aniseed, and fennel. Colored with small wormwood, hyssop, and lemon balm. 
Rich licorice, complex herbal profile, and floral.
Click here
to learn how to enjoy absinthe.

CARAWAY RYE
70% malted rye
30% malted barley
A healthy addition of caraway seed
Aquavit-like notes, hints of malt, warm spice, chocolate, anise, and stone fruit

SMOKED CORN WHISKEY
80% smoked corn
20% malted barley
Mezcal and scotch like notes, hints of smoke, campfire, wood, butter, and sweet corn

APPLEJACK
Apple brandy distilled from local cider, aged in bourbon barrels, and finished in mead barrels.
Bourbon-like notes, hints of apple, caramel, honey, and vanilla.

LINDSAY STUNKLE RYE WHISKEY
80% malted rye
20% malted barley
120 proof
Meant for home aging
Limited-time only. SOLD OUT!

HONEYJACK
Distilled local mead, aged in an unusual charred oak barrel.
Honey, vanilla, oak, caramel, and honeycomb perfume notes
In stock! While supplies last.

BRINTON'S BRANDY
Unaged apple brandy infused with local tart cherries; traditional Civil Way era recipe.
Cherry pie notes, hints of sweetness, tart, apple, and cherry
Next release: February 15, 2019!
ATTAMARO BOY
Distilled Grapefruit IPA, finished in a used rum barrel, and infused with honeysuckle, dried permissions, angelica root, and oleo saccharum of grapefruit.
IPA style notes, hints of hops, citrus, flowers and bitterness
Limited-time only! SOLD OUT!
| | |
| --- | --- |
| | This icon denotes which products are part of our Conspiritor Series. We are passionate about collaborating with our local industry counterparts & other partners. |
AUTUMN LIQUEUR
Apple brandy infused with ginger, plum, black tea, turmeric, allspice, cinchona bark, sage, fennel, saffron, and honey.
Available now while supplies last!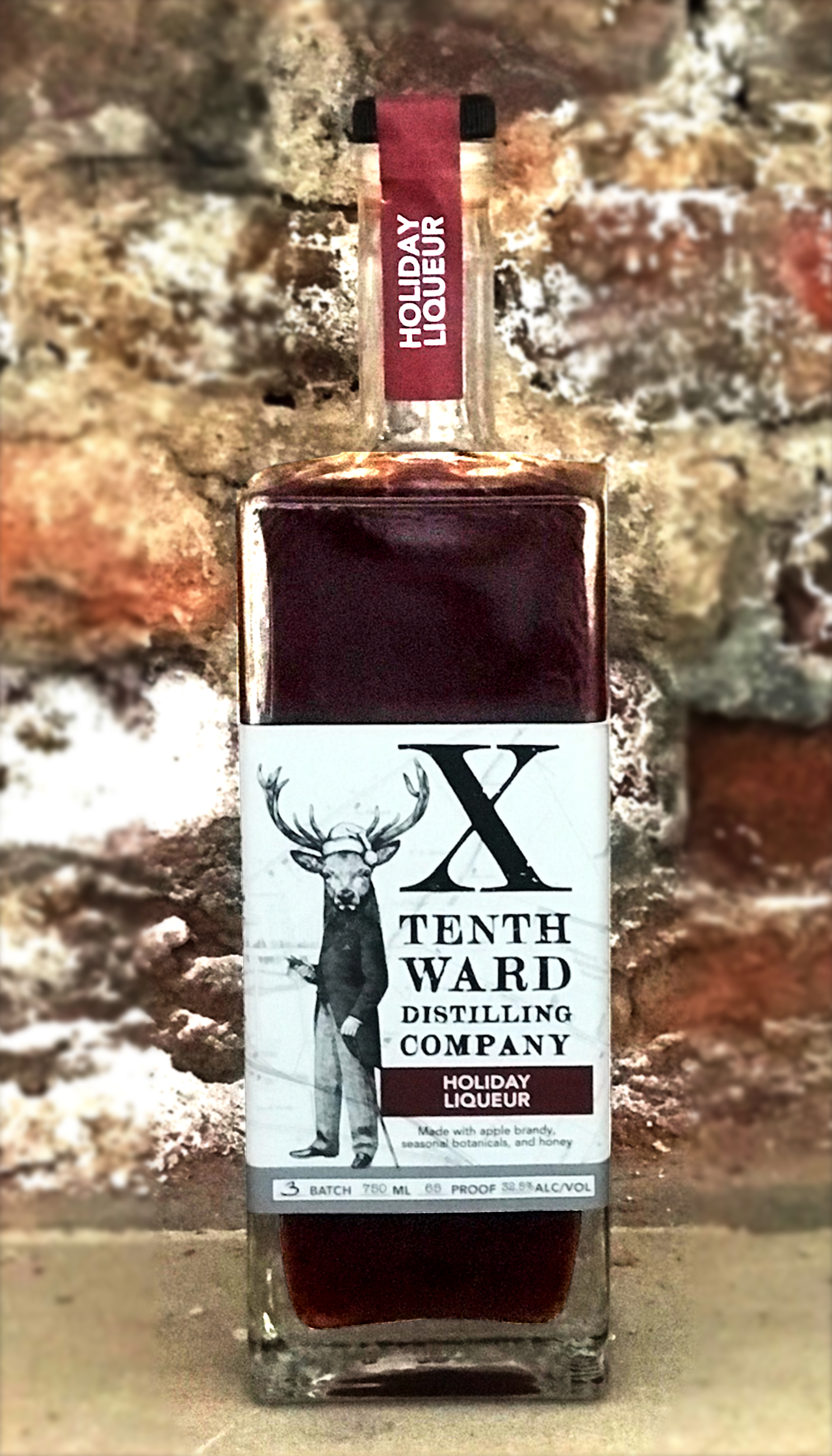 HOLIDAY LIQUEUR
Apple brandy infused with sandalwood, mace, dried cherries, rooibos tea, white peppercorn, vanilla, hazelnut, and allspice.

"Winter in a bottle"
Available now while supplies last!
SPRINGTIME LIQUEUR
Apple brandy infused with chamomile, woodruff, almond, apple peel, vanilla cardamom, all spice. Sweetened with local clover honey.
Honey, floral and tart apple notes, hints of spice and herbs
SUMMERTIME LIQUEUR
Apple brandy infused with hibiscus tea, white tea, raspberries, lemon balm, lemon peel, roasted rhubarb and angelica root. Sweetened with local clover honey.
Berry, floral and lemon notes, hints of tannins, refreshing tartness, tea and herbs
JACK ROSE
2 oz Applejack
1 oz lemon or lime juice
.5 oz pomegranate juice
Shake with ice, strain.
* Add champagne for a "Jane Rose"
BLOODY MANHATTAN
1.5 oz white caraway rye
1/2 oz Solernos blood orange liqueur
1/2 oz oz sweet vermouth
Splash orange bitters
shake with ice, strain into martini glass, garnish with grenadine
SUMMERTIME ROYALE
1 oz Summertime Liqueur
Champagne
Pour liqueur in champagne glass, top with champagne
ABSINTHE FRAPPE
1 oz Absinthe Nouvelle
6-8 mint leave
simple syrup
soda
water lime
Muddle mint and simple syrup in shaker, add ice and absinthe, shake, strain over a glass with crushed ice, top with soda water, garnish with lime
SMOKEY JALAPENO MARGARITA
2 oz corn whiskey
1 muddled jalapeño slice
lemon juice
lime juice
splash simple syrup
splash triple sec
Serve over ice. Garnish with salt, lime and jalapeño.
RYE MULE
1.5 oz Caraway Rye Whiskey
Ginger beer
Orange bitters
Pour whiskey and dash of orange bitters over ice,top with ginger beer, garnish with lime
Give the gift of spirits! Click below to purchase Tenth Ward Distilling Company gift cards in any amount you like.
Belles' Sports Bar & Grill
1202 E Patrick St, Frederick, MD 21701
Blue Side Tavern
6 S Bentz St, Frederick, MD 21701
Cafe Nola
4 E Patrick St, Frederick, MD 21701
Firestone's Culinary Tavern
105 N Market St, Frederick, MD 21701
Guido's
543 N Market St, Frederick, MD 21701
Hootch and Banter
49 S Market St, Frederick, MD 21701
JoJo's Restaurant & Tap House
16-18, E Patrick St, Frederick, MD 21701
Lazy Fish
10 E Patrick St, Frederick MD 21701
Ragin' Reef
506 E Church St, Frederick, MD 21701
Roasthouse Pub
5700 Urbana Pike, Frederick, MD 21704
The Tasting Room
101 N Market St, Frederick, MD 21701
18 Market Space, Frederick, MD 21701
The Wine Kitchen
50 Carroll Creek Way #160, Frederick, MD 21701
Woodberry Kitchen
2010 Clipper Park Rd, Baltimore, MD 21211
Old Line Fine Wine, Spirits & Bistro
11011 Baltimore Ave (Rte 1), Beltsville MD 20705
Ballenger Beer & Spirits
5862 Ballenger Creek Pike, Frederick, MD 21703
Tasting: Saturday, December 15, 4pm-7pm
Eastside liquors
507 N East St, Frederick, MD 21701
Frederick Wine House
7820 Wormans Mill Rd., Suite L, Frederick, MD 21701
Lakefront Fine Wine & Spirits
2401 Whittier Drive, Frederick, MD 21702
Tasting: December 14, 4:30pm-7:30pm
Old Farm Liquors
2190 Old Farm Dr, Frederick, MD 21702
Orion Wine & Spirits
8927 Fingerboard Rd, Frederick, MD 21704
Riverside Liquors
1299 Riverbend Way # A, Frederick, MD 21701
Spirit of Liberty
11339 Liberty Rd, Frederick, MD 21701
Spring Ridge Liquors 
6085 Spring Ridge Parkway, Frederick, MD 21701
Wine Districts
5213 Presidents Ct, Frederick, MD 21703
Ye Old Spirit Shop
1005 W 7th St, Frederick, MD 21701
New Windsor Liquor and Deli 
409 High Street, New Windsor, MD 21776
Mountaindale Convenience Store (Rt 15)
6825 Putman Road, Thurmont MD, 21788
Franklin Liquors
2913 Urbana Pike (Rte 355), Urbana, MD 21754
Tasting: December 8, 2pm-5pm
Walkersville Wine & Spirits
130 Walkers Village Way, Walkersville, MD 21793
Clarksburg Village
12051 Chestnut Branch Way, Suite 1, Clarksburg, MD 20871
Darnestown
12155 Darnestown Road, Gaithersburg, MD 20878
Fallsgrove
14937E Shady Grove Road, Rockville, MD 20850
Hampden Lane
4920 Hampden Lane, Bethesda, MD 20814
Kensington
3733 University Boulevard, Kensington, MD 20895
King Farm
302 King Farm Boulevard, Suite 120, Rockville, MD 20850
Kingsview
18323 Leaman Farm Road, Germantown, MD 20874
Muddy Branch
866 Muddy Branch Road, Gaithersburg, MD 20878
Seneca Meadows
20680 Seneca Meadows Parkway, Suite 2, Germantown, MD 20876
Westwood
5432 Westbard Avenue, Bethesda, MD 20816
Antietam Spirits
2 Tiger Way, Boonsboro MD 21713
Petite Cellars
11079 Resort Road, Ellicott City MD 21042
New Market Beer & Wine 
11670 Old National Pike, New Market,MD 21774